MARCH 2023
Spring is coming! DG is busy rehearsing gearing up to make our return in May. Stay tuned for dates to be announced. In the meantime, head over to DG's new merchandise shop and grab some DG products from t-shirts, stickers, buttons, magnets, mugs, baseball hats, tote bags, mousepads. Click products image below.

JANUARY 2023
Happy New Year! DAMN GLAD is excited to introduce our new bass player, Amriel Kissner. DG lineup is ready to roll in 2023. Stay tuned for late winter show announcements. 
Tune into DG's 24/7 radio station shuffling over 6 hours (6 albums/86 songs) and 3 covers at DAMN GLAD Radio 24/7.

SEPTEMBER 2022
DAMN GLAD still seeking a bass player. Please message directly. Ready to play some shows! Where are you? Tune into DG's 24/7 radio station shuffling over 6 hours (6 albums/86 songs) and 3 covers at DAMN GLAD Radio 24/7. 
 
APRIL 2022
Happy Spring! The band has been busy with writing yet another body of songs influenced by newest member, Anand Gupta. His textural guitar stylings have led DG in a new fresh direction. So far 20 new song ideas have taken shape while we continue to rehearse live set from 6th album coming to a stage as soon as we find a bass player. 

JANUARY 2022
DAMN GLAD is mad happy to announce new lineup ready to rock in 2022! DG is still seeking a bass player. Jersey City rehearsal. Drop DG a note from CONTACT tab if interested. Tell us about yourself and provide links.
(L to R: Anand Gupta, Jeff Baker, Matt Kurzban)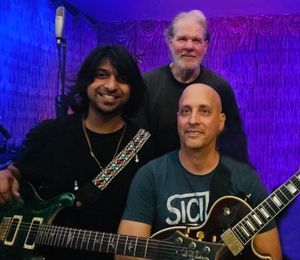 AUGUST 2021
We are thrilled to have finally released 6th album "Up Comes Down" on 7/23/21 featuring 13 new songs and DG's best album yet! Watch "In Session" song videos from new album at DG YouTube channel and please subscribe while there. Much appreciated. We are currently auditioning bass players and have added 2nd guitarist, Anand Gupta to the lineup. He is a welcome addition to DG and his sounds and style will certainly influence the next DG record down the road. We look forward to bringing these new songs to life on stages soon. Purchase/stream 'Up Comes Down" and all DG albums by clicking "Music/Videos" above and also at Bandcamp page.

MAY 2021
It's coming! DAMN GLAD's 6th album "Up Comes Down" is scheduled for release on Friday, July 23, 2021. We are excited to finally share our best album yet! 13 new songs that all began as jams on an iPhone that turned into great songs. During lockdown 2020, Matt organized, edited, arranged and wrote lyrics to these songs turning them into what has become DG6! Songs like "All Out Of Everything", "Remember To Forget", "Better Days" and "Truth Decay"(co-written with former bandmate Robert Cuevas) reflect on what we all went through in 2020 during quarantine. Stay tuned for teaser in session videos for new songs. Oh yeah, the band is still seeking a bass player & 2nd guitarist to round out the lineup.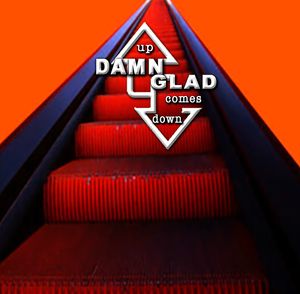 NOVEMBER 2020
It's hard to believe that 2020 has played out the way it has. Hope everyone is staying healthy and keeping after their immune systems. It has been a transformational year for us all and welcome distractions such as creating art, music or whatever gets you through the night are so important for the soul. DAMN GLAD has been doing just that. Recording is well under way for DG's 6th (untitled) album coming in 2021. Drums are almost done for 13 new songs. DG is looking for a bass player and 2nd guitarist should anyone know of players looking. Stay safe and keep love in your hearts and let's all hope 2021 returns to some sense of normalcy so we can all get back to living the lives we are meant to live. Peace, love and rock n roll.
 
JULY 2020
Although a crazy time for all, music still must be created, shared and enjoyed by all. DG has been busy during quarantine writing a 6th album. A dozen new songs so far with lyrics for 9 completed. DG hopes to hit the record button as soon as we are able to as this new body of music is great and we look forward to playing out these new tunes for you! It's gonna take some time til we can record these new songs for real which will be our 6th album. Songs originally created from rehearsal jams with Matt Kurzban & Jeff Baker recorded on iPhone then sketched and overdubbed at home while quarantined. Matt then arranged, composed and produced "Demos From Quarantine". The low fi recording of these great spontaneous jams that turned into songs birthed was not at acceptable production release quality which has led the guys back into the studio to record them for real. Stay tuned! Stream all 5 albums 2003-2019 (5 hours, 73 songs) at www.zeno.fm/damnglad or visit www.damnglad.com. Stay safe, healthy and positive in the meantime and keep the faith.

FEBRUARY 2020
Great times! Great new songs coming out of new DG jams. Constant new music and creativity always flowing. Who knows? Maybe an EP down the road a bit. DG will be gigging and digging in throughout 2020. So stay tuned for more shows and how it goes! 
NOVEMBER 2019 
Happy Holidaze to all! DG thanks all who have ever listened or come to a DG show. Looking forward to a new year and more shows! First up; Sat., 1/25/20 @ Desmond's NYC  STAY TUNED for more shows and new music always coming  
JUNE 2019 
What a great month! DAMN GLAD out and about rocking in support of 5th album. New DG5 T shirts now available. Get them here in sizes M, L, XL.
MAY 2019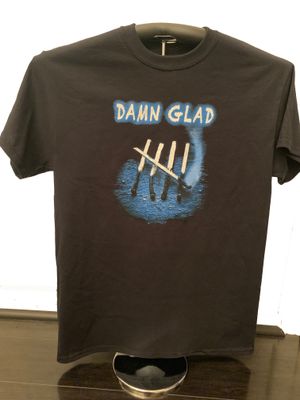 MAY 2019
DAMN GLAD is set to celebrate the release of 5th album celebrating 17 years together with 19 new songs on 5/17/19. DG is excited to have some shows on the calendar and a record release party for album #5 in front of Matt's hometown crowd in upstate NY where he grew up in Woodstock/Kingston area. DG will be at BSP in Kingston on Fri., 6/7/19 @ 10pm along with childhood buddy Bobby Weiss with his Ramones tribute group Rocket To Ruin. Also returning to Dingzbatz in Clifton, NJ on Thurs., 6/13. Stay tuned for more shows and some new tees. The revised DAMN GLAD History No Mystery Storybook 2002-2019 First Edition is now available on our merch page as the first edition details the new 5th album and lineup.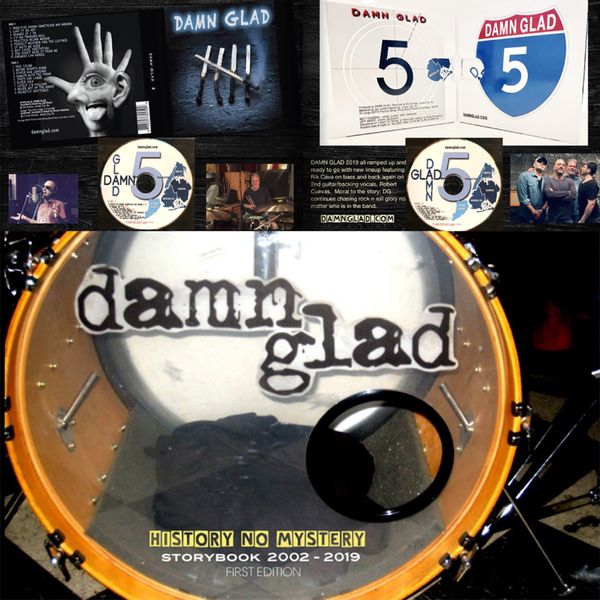 MARCH 2019 
DAMN GLAD 5 coming Friday, May 17, 2019 to a portal near you! Go to DG Facebook page to hear world premieres of all 19 new songs leading up to release date. DG is excited to announce the new 2019 lineup with old bandmate, Robert Cuevas on 2nd guitar, backing vocals and good friend, Rik Cava on bass along with founding dudes Matt Kurzban on vocals/guitar and Jeff Baker on drums. The band is looking forward to returning to the stage for the first time in a year and a half on Sat., 4/6/19 @ 10pm at The Way Station in Brooklyn. Come on out and stay tuned for additional spring/summer shows.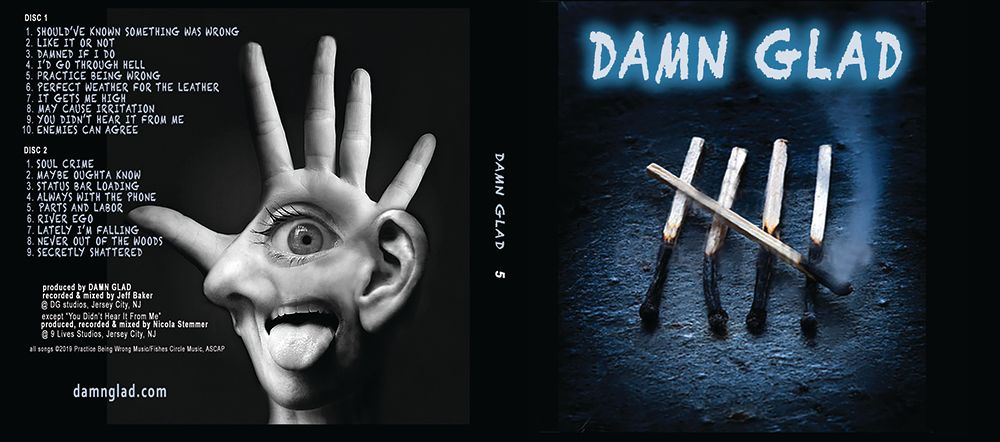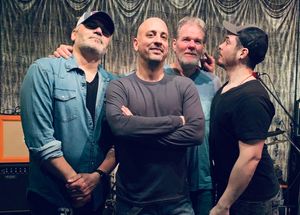 FEBRUARY 2019 
We are thrilled to announce that mixes have been completed for our 5th album coming Spring 2019 celebrating 17 years together with 19 new songs. DG will be announcing release date in the coming weeks once album is mastered. DG is ramping up for some Spring/Summer shows with a new lineup to be announced soon. Mark you calendars for Sat., April 6th @ 10pm at The Way Station in Brooklyn, NY as DG makes their return to a stage after a year and a half hiatus recording their 5th record. Check out track listing order below.  
DECEMBER 2018 
Happy Holidaze to all From DG! How time flies! We are excited to be close to finished mixing 19 new songs for our 5th album due out early 2019. Initially slated for Fall release, DG didn't want to rush for sake of rushing. Our best effort to date! DG was close to hiring a new bass player but unfortunately timing and circumstances weren't meant to be. So if you know of a bassist or are one looking for a kick ass, established band; drop us a line! Stay tuned for release date and Spring 2019 shows! 
 
JUNE 2018 
It has been a productive couple of months. DG has been well immersed in the studio @ DG HQ in Jersey City, NJ recording our 5th album. Our most ambitious effort to date consisting of 19 new songs commemorating 16 years together. If you follow DG on Facebook, then you've seen the entire making of the album in progress. DG is still seeking a permanent bass player to step into some comfortable shoes for some late summer/early fall shows. Reach out directly to DG here. DAMN GLAD 5 expected Fall 2018. 
 
MARCH 2018 
DAMN GLAD is very excited to announce the release of our History No Mystery Storybook 2002-2018. Now available here. Celebrating 16 years together through various incarnations, line up changes, 4 albums (54 songs) and still going strong as we currently work on our 5th album. The storybook is a chronological history of every member (5 bassists, 3 guitarists) from each incarnation along with backstory from every record loaded with photos and artwork. A must have for your bookshelf, coffee table or magazine rack. Hardcover comes shrinkwrapped. That little band you never heard of has been around longer than most. DG is currently auditioning bass players if you are ready, willing and able or know someone who is, send them our way!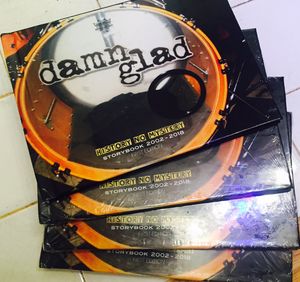 NOVEMBER 2017   
The holidaze are fast approaching and DG is currently gearing up to begin work on our 5th album. Looking forward to bringing new music to life. Already have 8 new songs ready to record with many more on tap ready for some tender loving care. Matt is also keeping busy performing acoustic sets with cellist, Eduardo Palacious around NYC. Check out local dates now through December. DG is also looking for a new bass player and wishes Zachary all the best. Feel free to contact us directly if you are a bass player or know of one looking for a rocking band.

SEPTEMBER 2017   
Fall is upon us! DG has half an album's worth of new songs already. Time to hunker down and write some more jams!!! Stay tuned for upcoming shows throughout the Fall while DG presses the record button. It will be our 5th album. Also stay tuned for intimate acoustic performances at various local venues with cellist Eduardo Palacious. 
 
JUNE 2017   
Hey hey hey!! DAMN GLAD to say we've missed you! Catch us at the monthly Tommy London's $5 Rock Show at Arlene's Grocery, NYC on 5/31/17. Lots of new songs which we are already playing live. Blessings and happy to be DAMN GLAD! \m/. DG also at Pianos (158 Ludlow St.), NYC on Sat., 6/17/17 and special acoustic show at Lovecraft (50 Ave. B) NYC on Mon., 6/26/17 with our friends Forget The Whale and guitarist from Soulfly, Luke Rizzo all performing acoustic sets. Bring a maraca or something. 

MARCH 2017   
Hello all from DAMN GLAD land! DG is doing stellar. Getting our spring into motion at The Bowery Electric, NYC on Wed., 3/22/17 and more shows to come. The band is also writing new songs that you can hear live as DG always marches forward no matter how many albums we have out! See you soon!!

DECEMBER 2016   
Happy Holiday once again. DG still rocking in the free world as another year comes to a close. How time flies. 54 songs, 4 albums in the books for DAMN GLAD! Collect them all along with the release of 4th album "Test Drive Happiness" available at iTunes and CDBaby. See you in the near year.

AUGUST 2016  
DG's 4th album "Test Drive Happiness" is all mastered up and ready for release! Official release date 8/13/16. We'll be celebrating the release on stage at Dingbatz in Clifton, NJ on this night. Available on iTunes and Cdbaby.com.

MAY 2016 
DG has been busy gigging out with new blood in the band. Zachary Joy Smith on bass. The guys hit the stage together for their first show  in support of Faster Pussycat. Look for DG Fri., 5/20 @ The Rock Shop in Brooklyn. 

JANUARY 2016

Happy New Year! DG would like to thank all those who have supported our music throughout the year. We are excited about the release of our 4th album "Test Drive Happiness". Also finishing up recording "Pigs (Three Different Ones)" for Pink Floyd tribute album coming out on Versailles Records. Stay tuned for upcoming shows. 

SEPTEMBER 2015

My how time flies. We are psyched to announce that our first bass player, Robert Cuevas is back.  He played bass on our first album "And That's That!". Unfortunately, it's taken us a bit longer to put the finishing touches on our 4th album "Test Drive Happiness" due to life happening while busy making plans. One song left to finish. Look for DAMN GLAD at a stage near you soon.

MAY 2015

Heard you missed us. We're back! DAMN GLAD has 11 songs near completion for forthcoming 4th album "Test Drive Happiness" coming summer '15. Check out Twitter feed for sneak peeks available now. Some exciting lineup news to be announced soon. 

JANUARY 2015

New album is sounding amazing. About to start recording vocals. DG also auditioning new bass players. Spread the word and love. DG's 4th album Test Drive Happiness is coming Spring 2015.


DECEMBER 2014

Another year has come and gone. Amazing where the time goes. DAMN GLAD is thrilled to announce that we are 9 songs into recording our 4th album "Test Drive Happiness" due out in Spring 2015. The new songs are sounding amazing and we are excited to get them in your ears. We are currently seeking a new bass player, so don't be shy to drop us a line if you know of someone who would love to rock. Happy New Year to all and see you soon.


NOVEMBER 2014

DG is excited to announce that we've recorded drums for 8 new songs as well as Pink Floyd's "Pigs (3 Different Ones)" for the upcoming PF Tribute album on Versailles Records in 2015. Stay tuned as we can officially say we are working on our 4th album.


OCTOBER 2014

Happy fall foliage everyone. DG is underway in the studio recording basic tracks for Pink Floyd's "Pigs (3 Different Ones)" for PF Tribute album coming in 2015 on Versailles Records. Stay tuned. Many new songs we are about to begin recording as well. Stay tuned for more. New DG album in 2015!! Catch us around.


AUGUST 2014

DG getting ready to rock in Wallingford, CT at Cherry Hill Station on Fri., 8/8/14 and at Vibe Lounge in Rockville Center, Long Island on Fri., 8/15/14. Lots of new goings on in the writing department lately. Many new songs in the works and smelling a 4th album. Stay tuned.


JUNE 2014

DG about to get ready to begin pre-production on the Pink Floyd cover "Pigs (Three Different Ones) for the Versailles Records tribute album to Pink Floyd. Also lots of new songs in the works to be recorded. We'll be doing some light gigging. In the meantime, read a great article featuring singer, guitarist, songwriter Matt Kurzban talking about being lefty but playing guitar right handed at http://thehub.musiciansfriend.com/artist-interviews/lefty-guitarists-not-left-out 


MAY 2014

Great rocking shows this month with Ten Ton Mojo at The Saint in Asbury Park, NJ and with The Plush Interior at Olive's in Nyack,NY. Rocking away acoustically at Lakeside Lounge @ The Willows in South Salem, NY as well. DG also writing new songs. Stay tuned!


APRIL 2014

Spring has sprung! Time to have fun! DAMN GLAD is busy hunkering down in the studio writing new songs for a future 4th album. On April 15th, Versailles Records will release the Aerosmith Millennium Tribute album "Deuces Are Wild". DAMN GLAD covered "Make It" from Aerosmith's first album. Some well known artists also includ Vince Neil, Tesla, Tony Levin. Available at Best Buy and other online retail outlets http://www.bestbuy.com/site/deuces-are-wild-a-millennium-tribute-to-various-cd/23719779.p?id=2912480&skuId=23719779&st=aerosmith+deuces+are+wild+millennium+tribute&lp=1&cp=1. 
DG will be rocking The Saint in Asbury Park w/NYC's Ten Ton Mojo on Sat., 4/26/14.


MARCH 2014

There's a light at the end of the tunnel. It's called Spring!! DAMN GLAD is mad happy about that! What a winter indeed. DG rocked our 1st acoustic show of the year at the well known Desmond's Tavern. DG is back at Spike Hill in Williamsburg, Brooklyn on the 11th. Come on down. Lots of new songs being written for an eventual 4th album. DG will also start gearing up to record Pink Floyd's "Pigs (3 Different Ones)" for the Pink Floyd Tribute album on Versailles Records. Please take a moment and enter your email address to be on our mailing list. 


FEBRUARY 2014

DAMN GLAD has been busy writing new songs trio style. The scent of our next record perhaps? We will be returning to the stage on Fri., 2/28 @ Desmond's Tavern in NYC. Come on down and hear a new set. 


JANUARY 2014

Happy New Year to all! DAMN GLAD will be busy recording new music and rocking around town late winter/early spring 2014. Make sure you stay in touch via damnglad.com for all news DG!


DECEMBER 2013

Happy Holidays to all. Time certainly flies. Another year in the books. DAMN GLAD is grateful for 2013. We saw our drummer Jeff, recover from not being able to walk, to taking his seat behind the drums again as we've rocked steadily throughout 2013 in support of our 3rd album "It's Always Something". We have been included on 2 tribute albums on Versailles Records as well. DG is looking forward to 2014. We're going to take a break from gigging so we can begin writing and recording new material. We're also going to be recording a Pink Floyd cover song for a tribute album coming out on Versailles Records mid 2014. One more show on Fri., 12/13 in Brooklyn! May you have a happy, safe holiday season. See you late February at Desmonds, NYC.


NOVEMBER 2013

November to remember! DG rocked a couple of cool shows. Watch the entire acousic performance at The Way Station in Brooklyn here. DG then rocked Spike Hill again w/The Plush Interior.  A couple more shows in December in Queens and Brooklyn (both electric) to finish off a great 2013. 


OCTOBER 2013

Rocktober has been a blast! DG rocked Ella Lounge for the CBGB Music Festival on behalf of Riffslinger Productions. View photos . We are gearing up for some fall shows and recording some new material as well as some cover tunes. Stay tuned! 


SEPTEMBER 2013

DG has been gearing up for a couple of great shows in October. We'll be rocking Tammany Hall in NYC on Fri., 10/4 @ 9:30pm and then the following week at the CBGBs Music Festival at Ella Lounge, NYC on Fri., 10/11 @ 11pm. Come on down and let us rock you!


AUGUST 2013

DAMN GLAD has been having a blast gigging around. They were featured on the Rock Hard with Jay Conroy show on Rockhardradio1.com twice in the past month. Both shows had DG in the studio for an hour and a half.

The first show was with Matt and special guest Eli Gay on cello. Matt broke out a couple of DG songs on acoustic and also surprised Jay with an acoustic performance of Aerosmith's "Seasons of Wither". Listen to the entire show at Rock Hard w/Jay Conroy 1st interview.

The second interview had the entire band in the studio chatting it up and spinning songs from the new album "It's Always Something" available now. Listen to the entire show at Rock Hard w/Jay Conroy 2nd interview.


JULY 2013

DG is proud of both tracks that we have recorded to contribute to the Versailles Records tribute albums "Deuces Are Wild" millennium tribute to Aerosmith and "Down At The Whiskey" tribute to Motley Crue both due out in October 2013. You can listen to both cover versions at http://youtu.be/r2u7FsvM6m4 and at http://youtu.be/xOOJYLRHdKY. 


JUNE 2013

We are finally getting around to recording Aerosmith's "Make It" and Motley Crue's "Wild Side" for tribute albums on Versailles Records due out this summer. DG is proud of our take on 2 great rock songs. Stay tuned for song leaks. 


MAY 2013

DG is back rocking and rolling. We've been playing some cool acoustic shows this month with cellist Eli Gay and Vincent Denis from The Plush Interior on 2nd guitar. We are back in black!! Come on out and witness the power and the glory of DAMN GLAD!! Electrostatic, strong magnetic forces all around!!!!


APRIL 2013

We are thrilled to be back in rehearsal mode for some upcoming shows this spring. Our drummer, Jeff Baker is slowly recovering from his recent disability and is back behind the drums shaking off the rust and rebuilding his muscles. DAMN GLAD will be performing intimate acoustic sets at various coffeehouse/acoustic venues in and around the NYC including LymeAid, a benefit event for Lyme Awareness Month. The benefit will help educate about this mysterious disease that still goes un-diagnosed throughout the international medical community. 

After we released our new album "It's Always Something" in January, it was a harsh reality being sidelined by Jeff's illness. That is why DG decided to take it slow and do some acoustic shows so Jeff can get back to drumming without having to hit hard doing loud electric shows. DG is looking forward to getting the momentum rolling again throughout the spring/summer. We will be playing the electric set soon enough. In the meantime, enjoy the intimacy of DAMN GLAD playing acoustically with the addition of Vincent Denis on 2nd guitar/backing vocals.


MARCH 2013

The independent film "15 North" which DAMN GLAD songs "Giddyup!" and "One Good Reason" were featured in has been officially selected in the SENE Film Festival in Providence, Rhode Island and is competing in the Narrative Feature Film category. Follow the buzz on the movie at
https://www.facebook.com/15NorthMovie and on the official site http://15northmovie.com/.

DAMN GLAD has also landed 2 songs from their new album "It's Always Something" into the Rockstar Rising Facebook game. Log on and play at https://www.facebook.com/rockstar.rising.game. 


FEBRUARY 2013

DAMN GLAD is looking towards Spring 2013 to begin playing shows in support of our new album. Art does immitate life as "It's Always Something" was never more true. Our long time drummer, Jeff Baker has been diagnosed and is recovering from a rare auto immune disease that has left him unable to walk, much less play his drums for now. Your thoughts and prayers are greatly appreciated. We know he will bounce back and DG will ride again. You can send your loving support to him by posting a message at http://www.fb.com/damnglad.


JANUARY 2013

Happy new year to all! DAMN GLAD's long awaited 3rd album is available now! It's been a long time coming and now DG delivers! The new album "It's Always Something" is available for download at Itunes or purchase cd at cdbaby.com or click on the buttons above. Not sure if you're a fan of DG? Then stream the entire album right here, right now!


DECEMBER 2012

Happy holidaze to everyone. DAMN GLAD has been putting the finishing touches on their first official video for their forthcoming release "It's Always Something" next month. The video is for "Crawl Back". A great rocking song to go along with a rocking performance video. Look for it's debut next month. Happy New Year!!


NOVEMBER 2012

Well it's finally here! DG's new album "It's Always Something" due out in January 2013. Stream the entire album here first with the player below. All 14 songs are here for your listening pleasure. Watch promotional video for the song "Never Say Never" and stay tuned for info on DG's record release party in the new year and for the official video for "Crawl Back". DG looks forward to rocking you in 2013.


OCTOBER 2012

DAMN GLAD is putting the final touches on 14 new songs for their new album "It's Always Something" due out early December. "This is by far the best DAMN record DG has ever made. We can't wait to share it with the world" says Matt Kurzban, lead singer/guitarist. DG will be mastering the album mid October. They have already shifted their focus to pre production/recording 2 cover songs for Aerosmith and Motley Crue tribute albums to be released by Versailles Records.